Google Introducing Two Changes to Improve Mobile User Experience
Cluttered webpages and popup ads are irritating enough on a desktop, but they can be exasperating on a smartphone when you may have limited time to read a piece of content. Always striving to improve user experience, Google recently announced two changes to remove distractions from mobile search results and barriers to content on mobile pages. Both could have implications for your mobile website. 1
1. Google Says Goodbye to Mobile-Friendly Label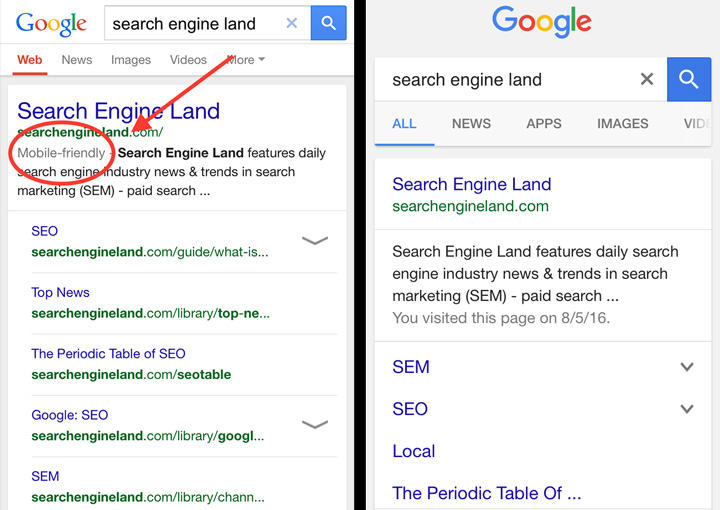 If you've done the work to provide smartphone and tablet users with an easy-to-navigate website, then you probably noticed a mobile-friendly label under your URL in the SERPs. Since implementing the mobile-friendly algorithm in April 2015, Google has seen widespread compliance with its mobile-friendly criteria, and the label now appears next to 85% of sites.
In an effort to streamline the search results page, or more likely to make way for the Accelerated Mobile Pages (AMP) icon, Google will no longer show the "mobile-friendly" label. Mobile-friendliness will, however, still be a ranking signal. If you haven't done so yet, make sure your site meets the following guidelines:
Customize content to fit smaller screens to prevent users from having to scroll horizontally or zoom.
Ensure links are far enough apart so as to be conveniently tapped.
Choose text that will be readable without having to zoom.
Use software that is compatible with mobile devices. 2
You can utilize the mobile-friendly tool and mobile usability report to make sure your pages meet Google's mobile-friendly design requirements and to spot any potential issues affecting your website.
2. Google Will Crack Down on Popups
When a user clicks on a link in the SERPs, his or her intent is to see the content described in the title and meta description, not a popup ad or intrusive interstitial, as Google calls them. Such obstacles can be frustrating, especially when they completely block content on a smartphone. After January 10, 2017, a new signal in search may make pages with four types of intrusive interstitials less accessible in the mobile SERPs:
Popup ads that prevent users from viewing the page after navigating to it from search or while reading it.
Standalone interstitials that require user action before the page can be displayed.
Formatting the above-the-fold part of the page to resemble a standalone interstitial and placing the content beneath the fold.
Interstitials asking users to install mobile apps (these were formally checked under the mobile-friendly test but will now be part of the new signal).
The new signal won't affect some types of interstitials and elements, as long as they are not used negligently.
Legal notifications, such as agreements to cookie usage or age verifications.
Login requests for email accounts, paywall-protected content, and other forms of private content.
Banners that do not occupy an unreasonably distracting amount of screen space.
Prioritize Mobile User Experience
As with the recent mobile-friendly algorithm update and announcement of the planned application of AMP to all mobile search results, these two changes reflect Google's commitment to optimizing the mobile user experience. Considering that poor user experience can lead to high bounce and low conversion rates, poor organic rankings, and negative associations with a brand, the search giant's objective is certainly one worth incorporating into your own digital marketing strategy. 3
Additional Sources:
1 – https://webmasters.googleblog.com/2016/08/helping-users-easily-access-content-on.html
2 – https://webmasters.googleblog.com/2014/11/helping-users-find-mobile-friendly-pages.html
3 – http://blog.hubspot.com/blog/tabid/6307/bid/32307/15-Things-People-Absolutely-Hate-About-Your-Website.aspx#sm.00001hoiq1vw76dbhtuuyvmlod7cx