Guide to Building Personas
Post #3 of our 4-part series on Audience Targeting
Customers today are inundated with marketing messages, making it more important than ever to craft customized campaigns that speak to their specific needs. Audience targeting is an excellent way for marketers to utilize the abundance of user data available to gain actionable insights and create highly individualized campaigns. Building personas can add a level of specificity to audience targeting that allows for even greater personalization—and in this guide we'll show you how.
What Is a Persona?

Personas are essentially fictional characters created from a combination of conjecture, research and data.
A persona is a representation of a specific type of customer, complete with details about his or her wants, needs and fears. Constructing these imaginary customers can enable you to better understand the thought processes of your actual customers, including the questions and concerns they may have when considering to purchase your product. Equipped with this knowledge, you can then tailor your content to assuage their concerns and show how your service or product offers a solution to their problems.
How to Create a Persona
In our first post on audience targeting, we used a gym as a business model and gave an example of one persona that could represent a certain type of gym member: the woman who regularly attends classes because they not only fit into her busy schedule but also allow her to see friends while staying in shape. We named her Social Sara. Below, you'll learn how we created her and how you can do the same to start customizing your content to the specific needs, behaviors and concerns of your target audience.
1. Define Marketing Goals
Before you begin, you may find it useful to identify target areas where your business would like to improve its marketing. Continuing with our example, you might notice that some gym classes are crowded and others are empty. If you want to investigate why, you could build a persona for the typical class attendee. Doing so may also elucidate potential improvements you could make to fill the empty classes, like how they could be more appealing to more people.
2. Brainstorm Customer Profiles
Whether or not you've already conducted research about your different market segments, you can build on what you know about a type of customer by brainstorming who they are, what they do, when they do it, and where. Most importantly, ask why. What motivates them? What do they need? What do they want? This will allow you to form a hypothesis about your persona that you can validate later with data.
Back to the gym example, by looking at your customer database or simply chatting with your instructors, you might determine that:
The majority of the members who frequent classes are women between the ages of 25 and 45.
Attendance is highest in the early morning and late evening.
Boot camp is more popular than crossfit.
With this information, you can form a theory about why this is the case:
Classes involve more personal interaction than weight lifting, so maybe these members come to socialize as much as to stay in shape.
Women in this age group tend either to work or have children, which could explain the times they prefer—before or after work or when they can find a babysitter.
Lastly, crossfit can be quite strenuous, while boot camp mixes lighter weights with aerobics, the latter perhaps being more appealing to female members.
3. Find Evidence for Your Hypothesis
Once you've formulated a hypothesis for your persona, you may wish to test it with evidence. Below are some online tools that can help you find data to back up your assumptions.
Google Analytics: Which pages received the most user engagement? In Google Analytics, you'll want to look at "time on page", "bounce rate" and "exit rate" which represents the "stickiness" of a page and also whether the visitor is finding the content interesting. Are pages with class schedules for boot camp receiving more user engagement than those for crossfit?
Social Analytics: Facebook Page Insights can provide information about who's being reached by and engaging with specific content. You can use Twitter Search to find discussions about your gym or more general fitness trends.
Surveys: Whether you send them out to existing customers or offer them to anyone who visits your website, surveys allow you to discover firsthand your audience's wants and needs. For example, you could ask which class times are preferable and why. SurveyMonkey provides free online survey software and questionnaires.
Demographic Data Aggregators: Websites like com offer a breakdown of the percentage of males and females in a given area, the median resident age, and the median household income.
Internal Data: Customer databases and class scheduling systems can provide insight into who is attending which classes and when.
4. Visualize Your Persona with a Template
When you've narrowed down the characteristics of your persona, you can use a template to help you organize the information into a more visual format. Xtensio has a free persona template builder.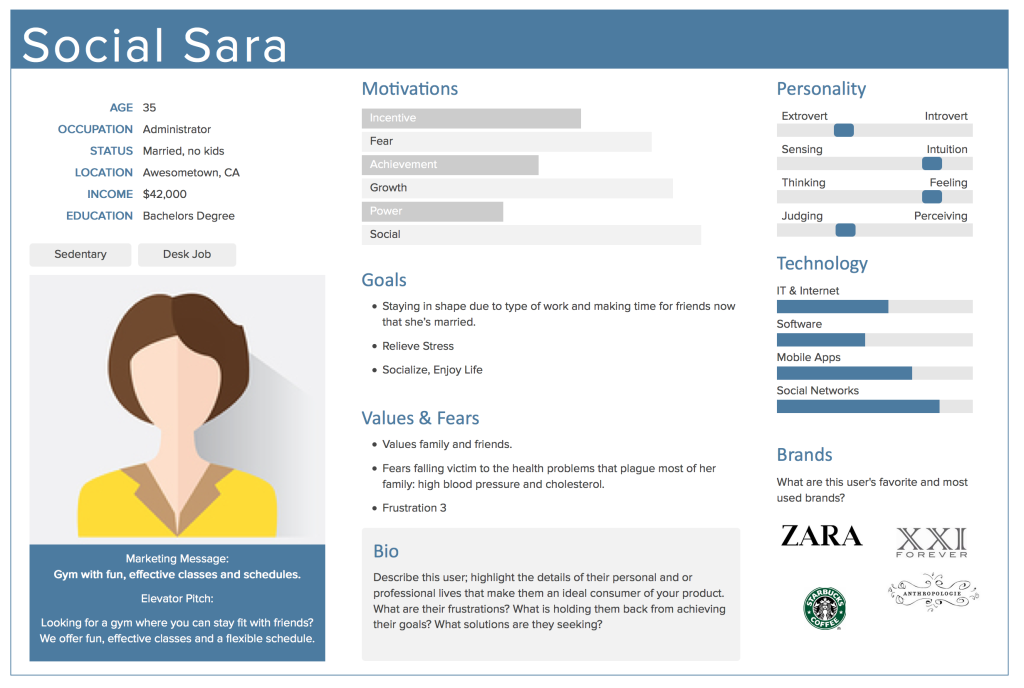 Name: Social Sara
Job: Administrator
Work Details: She works a typical 9-to-5-office job, spending too much time, in her opinion, at her desk.
Age: 35
Gender: Female
Salary: $42,000
Education: Bachelor's Degree
Family: Married; no kids
Goals or Challenges: Staying in shape due to type of work and making time for friends now that she's married.
Values and Fears: Values family and friends. Fears falling victim to the health problems that plague most of her family: high blood pressure and cholesterol.
Marketing Message: Gym with fun, effective classes and schedules.
Elevator Pitch: Looking for a gym where you can stay fit with friends? We offer fun, effective classes and a flexible schedule.
Social Sara, however, is just one segment of your market. You may also want to build personas for Jim, the bodybuilder, Tara the Triathlete, and so on. Most businesses generally create 2 to 4 personas. If one type of customer appears to be particularly representative of your entire customer base, then you may only choose to focus on that persona.
Read the final post in this series, about how to engage with customers at different stages of the consumer decision journey and search cycle. (to be published 9-22-15)